Large garden pond construction on a very steep site
Designed and made by Naiad Pond Services - Working with water since 1980
A series of images illustrating the construction of a large garden pond designed to sit in a steep hillside.
Large garden pond installed in a hillside. This image was taken when the pond was less than one year old.
Pond, jetty & boardwalk
The pond on the day we finished it. Planting was made in the margins about one month later. Turf to be laid by others.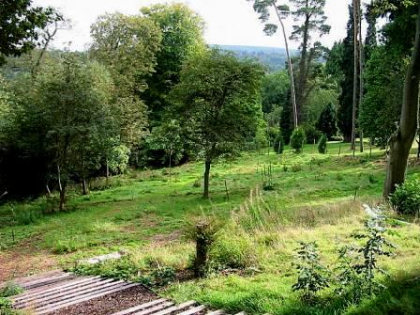 A challenge!
This is the hillside before we started - and the only access through a 1.10 metre wide gate!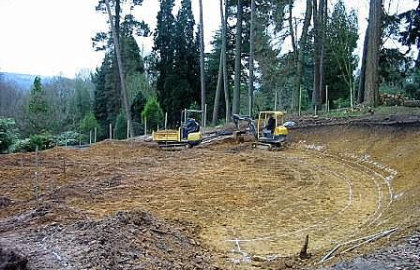 Yes please.
Having stripped off the topsoil, the next step was to excavate to water level. All the arisings from the excavation are going to build up a geogrid-reinforced bank on the downhill side.


---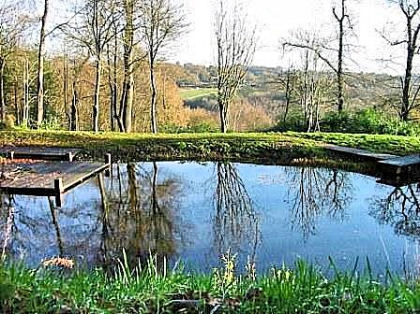 A pond with a view
Another view of the pond at about 10 months old.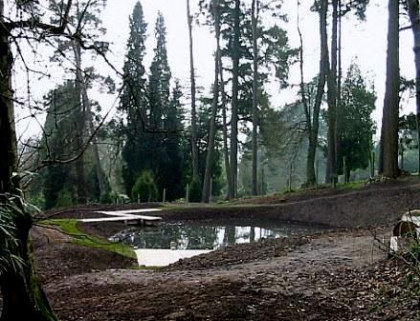 Pond massaged into hillside
A view of the finished pond and jetty/deck on the day we removed from site.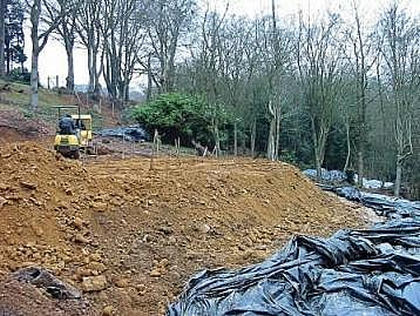 Building the downhill bank
The upper tier of the downhill bank being built up. The lower tier is covered with polythene to keep the elements at bay. The soil on this site became extremely unstable if it was worked when wet. Reinforcing geogrid was used throughout the bank building process.


---
Establishing
Another image of the finished and establishing pond.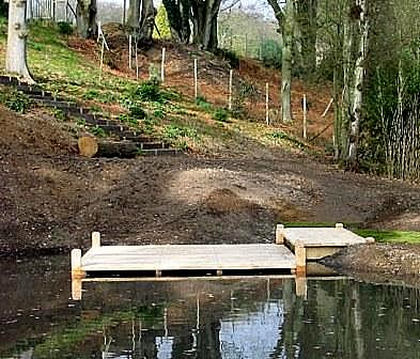 Picnic spot?
Split level jetty/deck made from green oak.


Getting there
Excavation and build up of bank nearly complete. Ramped path nearly finished


---
New hillside
The downhill bank and path dressed in with saved topsoil.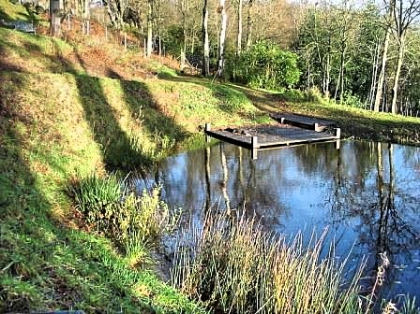 Seems to attract wildlife!
Another view of the finished pond about 10 months old.


Digging almost done
Almost the last of the excavation.


---
Underlining
Protective geotextile matting in a single sewn sheet introduced prior to liner installation.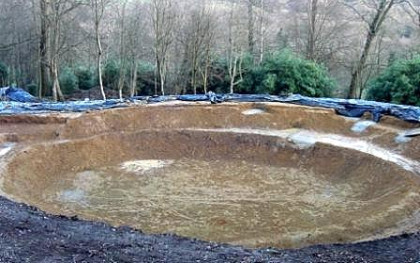 Done and ...
Excavation complete and ready for lining.


Made
Green oak jetty and boardwalk.


NAIAD POND SERVICES - Working with water in Surrey, West Sussex and Hampshire since 1980
Established in 1980 and working exclusively in the grounds and gardens of private clients on natural and man-made ponds, lakes, water gardens, streams, water features and attendant landscapes, we relish all aspects of Water Gardening.
---
Nationwide Consultancy
Tap into our specialist expertise for any (or all) of your pond, lake or water garden project by using us as

Designers or Consultants