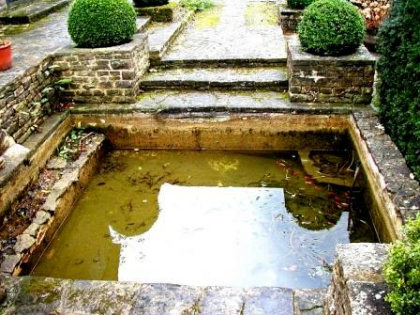 A leaking concrete pond
This leaking concrete pond is called "The Tank" and was built by Miss Gertrude Jekyll in her own garden. An important feature to rehabilitate.


Cleaned out
Here is The Tank cleaned out. The fish have been put in a stock tank for the duration of the works.


Tailored liner in place
The Tank, Miss Gertrude Jekyll's pond, relined with a tailored liner and ready for rendering.


---
Job nearly done
The Tank relined and rendered. Next step, removal of the lime from the render before reintroduction of the fish.


Job done!
The Tank relined and rendered to reinstate the concrete pond look that Miss Gertrude Jekyll had in mind when she designed this pond for her own garden.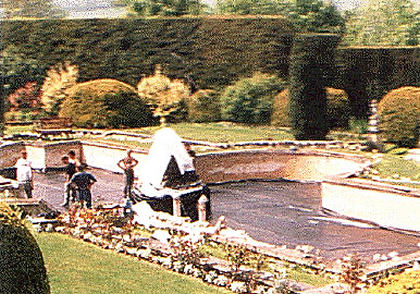 An early effort (it really was!)
Another leaking concrete pond repaired with a tailored butyl liner. This is one of the first tailored liners we designed and fitted, We think around 1990 - hence the grainy image scanned from an old photograph. In this case the liner had to be fitted over and around the central fountain feature.


---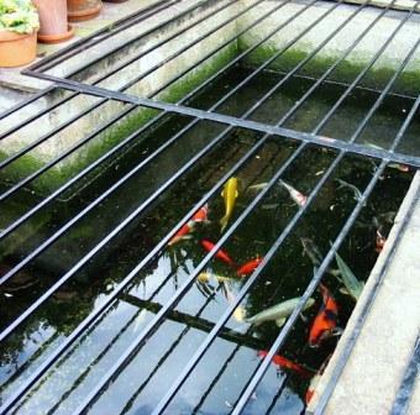 Failed concrete pond
Another leaking concrete pond. This time it is a Koi pond. These Koi were housed in stock tanks for the duration of the works on their "home"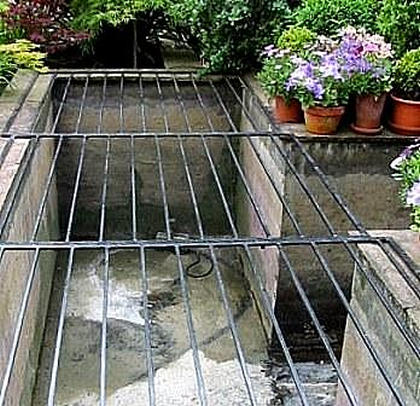 Cleaned out
Cleaned out leaking Koi pond. Provided that the rim slabs are sound, there is no need for their removal to reline the pond.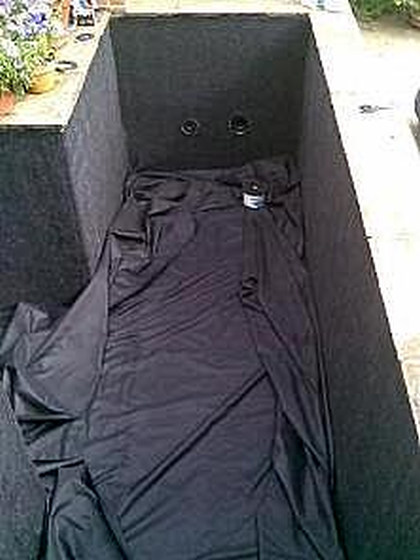 Prepared for lining
The tailored liner laid out in the base of the pond.


---
Remember the first image?
Decaying concrete repaired. Liner in place ready for rendering. Rim slabs being replaced on new rim foundations.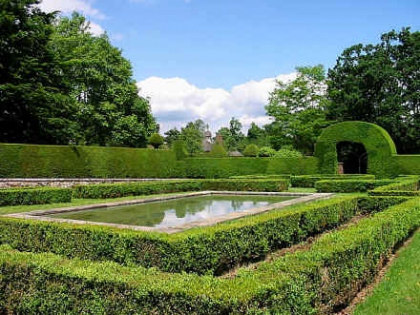 Well worth doing
Another view of a relined leaking concrete pond.


Absolutely!
Pond relined, rendered, filled and planted with lilies.


---
New pond - tailored liner
Here a tailored liner is being used in a new pond build. This pond and the attendant terrace construction is illustrated elsewhere in these galleries


Old pond - In need of tailored liner
Another leaking concrete pond. This one we repaired using a tailored liner.


New pond
Heavy duty tailored liner being fabricated in situ. Tailored liners can be made for non rectilinear structures too.