Large garden ponds
Designed and made by Naiad Pond Services - Working with water since 1980
A selection of larger garden ponds.
Some of the ponds illustrated in this gallery are illustrated in other galleries in more detail.
Large restored garden pond with new jetty.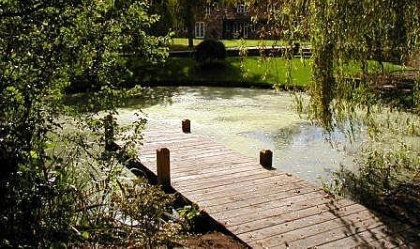 An on-stream pond
Large cleaned-out and restored on-stream pond with fewer islands (there were seven!) new water control structures and a functioning bypass leat.


A lined pond
New pond installed in a hillside.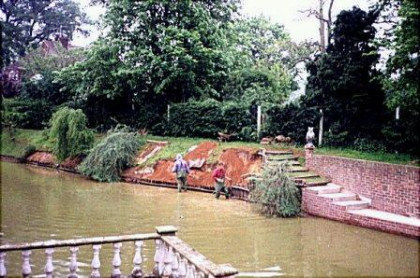 A water table pond
Bank repair and reinforcement and new brick walled steps in this water table pond.


---
A formal pond
New formal terrace pond, paving, walling and planting.


An important pond
New lined pond as part of a major restoration of a long watercourse in a Jekyll garden.


A bog pond
A water table pond built in very boggy ground (one of three).


---
A farm pond
Remade "farm" pond.


A hedonist's pond
New large pond with mowable green oak timber rim. To be turfed.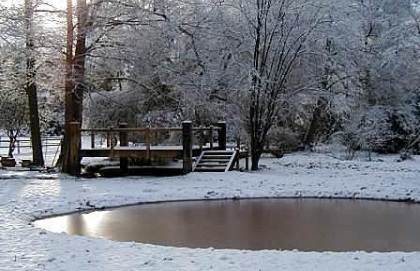 A winter pond
Water table pond and green oak platform in a bog.


---
A wildlife pond
A new lined pond.


A pair of ponds
A new large lined pond still filling (This is one of two large linked ponds, part of the second is just visible on the left of the image.


NAIAD POND SERVICES - Working with water in Surrey, West Sussex and Hampshire since 1980
Established in 1980 and working exclusively in the grounds and gardens of private clients on natural and man-made ponds, lakes, water gardens, streams, water features and attendant landscapes, we relish all aspects of Water Gardening.
---
Nationwide Consultancy
Tap into our specialist expertise for any (or all) of your pond, lake or water garden project by using us as

Designers or Consultants