Pond restoration - recreating an absolutely "natural" look in an ancient farm pond.
Designed and made by Naiad Pond Services - Working with water since 1980
To restore this farm pond and to provide excellent habitat for wildlife, we excavated to the chalk base and then completely covered the new liner in the relined pond with indigenous soil.
The relined pond. This image was taken about seven months after the relining work was completed.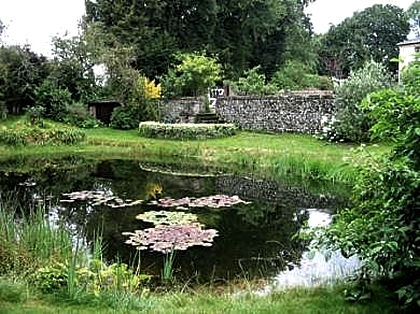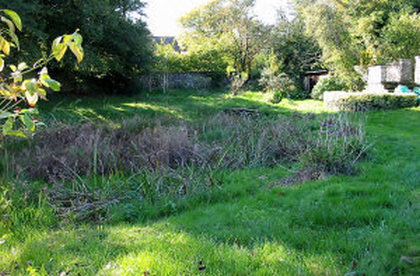 There is a pond ...
The pond as it was. Almost dry. A pity since this farm pond, now part of a private garden, has been shown on the maps for at least 160 years.


In there somewhere ....
The site marked out ready for machinery to arrive.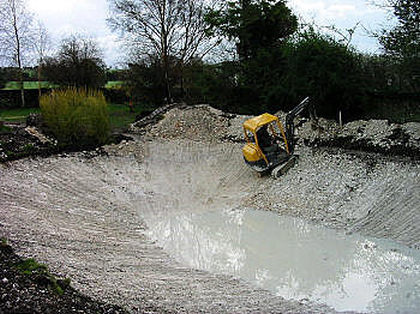 Told you!
Pond cleaned out and excavated to provide the arisings to cover over the liner to a depth of 30 cm. Very tight walled site didn't leave much room for stacking the required quantity of infill material.


---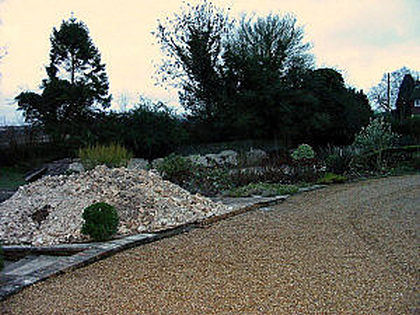 Muck away (not mucky)
As we were deepening the pond - after all, it is no longer a cattle watering spot - there was a fair amount of spoil to ship off site by lorries. This is just part of one shipment stacked on boards on the small lawn next to the drive.



Shaping up
The pond lined with a butyl liner sandwiched between two layers of protective geotextile matting and ready for the introduction of saved arisings to dress over the liner to a depth of 30 cm.


Filling up
With saved arisings dressed over the liner and a strip of turf to help stabilise the rim, the pond is filling with rainfall. This pond has an artificially large catchment area as it takes rainfall channelled from the drive.


NAIAD POND SERVICES - Working with water in Surrey, West Sussex and Hampshire since 1980
Established in 1980 and working exclusively in the grounds and gardens of private clients on natural and man-made ponds, lakes, water gardens, streams, water features and attendant landscapes, we relish all aspects of Water Gardening.
---
Nationwide Consultancy
Tap into our specialist expertise for any (or all) of your pond, lake or water garden project by using us as

Designers or Consultants