A selection of smaller garden ponds (Part I)
Designed and made by Naiad Pond Services - Working with water since 1980
In this gallery there are a few smaller ponds, semi-formal in nature, each designed to fit in a smaller space.
Detail from small pond rim. It is often surprising what lurks in the foliage.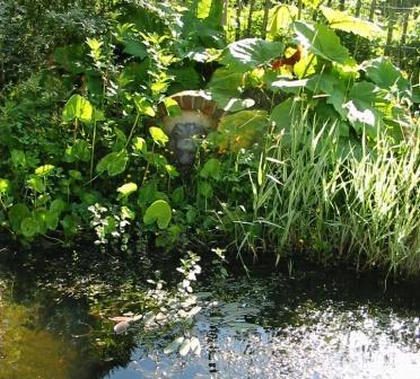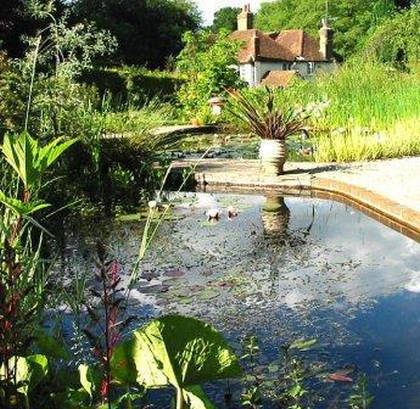 Twin ponds
Two separate ponds at the same level with false "bridge" path between.


Tiny pond
Tiny pond in a tiny garden viewed from an upstairs window. Copper "fountain" tree weeps water


Stepping stones
Rectangular pond with stepping stones. Built by us in 1992. Still going strong.


---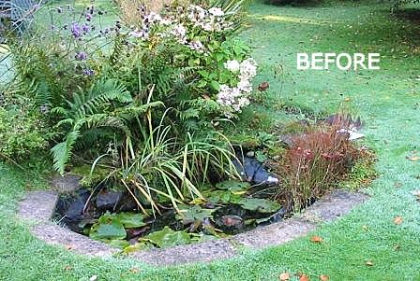 Help please!
This is what we were asked to remodel and remake - the finished result follows.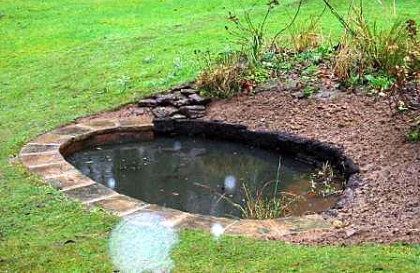 Certainly.
New small pond with mowable rim, soil-filled marginal beds and peat block rim. All integrated visually into the surrounding garden.


Proper "hairy" wildlife pond
Beautiful small "natural" wildlife pond. Count the species it supports.


NAIAD POND SERVICES - Working with water in Surrey, West Sussex and Hampshire since 1980
Established in 1980 and working exclusively in the grounds and gardens of private clients on natural and man-made ponds, lakes, water gardens, streams, water features and attendant landscapes, we relish all aspects of Water Gardening.
---
Nationwide Consultancy
Tap into our specialist expertise for any (or all) of your pond, lake or water garden project by using us as

Designers or Consultants